While at Cornell, I contributed to Slope Media, Cornell University's student-run media team. I was the beat writer for Cornell football, men's and women's ice hockey, and women's basketball. I also hosted a weekly radio show called Tim's Take on Sports and was the content director of sports for two editions of Slope Magazine (Fall 2011 and Spring 2012), responsible for producing, editing and writing stories and designing the pages for our online and print publication.
2011 Cornell Women's Basketball Highlight Video
There's no place like home: Big Red too much for Dartmouth
By Tim Weisberg
Published March 2, 2012: There's no place like home for the Cornell men's basketball team, as the Big Red continued their brilliant play in Ithaca with a 70-57 win over Dartmouth Friday night at Newman Arena. The Big Red (12-15, 7-6 Ivy League) improved to 10-2 at home, applying a full court press throughout the game to up the tempo and wear down the Big Green (5-24, 1-12).
"That's been a staple of our team this year–getting after teams and speeding them up," said senior guard Drew Ferry. "Eventually we wore (Dartmouth) down with our pressure and that kind of intensity."
The Big Green jumped out to an 8-3 lead early, but never led by more than five points, struggling to knock down shots offensively. The Big Red held Dartmouth to 34 percent shooting on the night, and only 20 percent shooting from behind the arc, while shooting 48 percent from three-point range.
"We struggled shooting last weekend, especially against Yale," said Ferry. "We shot terribly (at Yale), but we still have to come out confidently and even if they weren't falling in the first half…we're a smaller team so making those three pointers is a big part of our success."
Although the Big Green went to the charity strike 35 times, they only shot 63 percent from the line and missed 13 free throws. A late run in the second half was capped off by a Jonathan Gray three that gave the Big Red there biggest lead of the game at 68-46 with eight minutes remaining.
The Big Red conclude their season tomorrow night against first-place Harvard, which will be the final game for seniors Drew Ferry, Anthony Gatlin, Max Groebe and Chris Wroblewski, the latter two members of the Big Red's 2010 Sweet 16 team.
Wroblewski's five assists on the night also put him past former teammate Louis Dale '10 as the all-time assists leader (475) at Cornell, breaking Dale's mark of 471.
"It's hard for me to fathom the kind of experiences and memories that I'm going to walk away from in this program," said Wroblewski. "To experience the things I have, it's just surreal. It feels like I'm living a dream."
The Crimson avoided an upset, beating Columbia Friday night in overtime to remain in first-place and a half-game ahead of Penn, attempting to clinch the Ivy League and earn their first ticket to the NCAA Tournament since 1946.
"That would be a great way to end my career at Cornell," said Ferry. "You want to beat a great team like Harvard and spoil their season. That would be ideal for us."
====================================
Cornell soccer attempts to make history
By Tim Weisberg
Published Nov. 1, 2011: They say history repeats itself, but for the Cornell men's soccer team in recent years, it appeared that repeat button may have been broken.
However, the 2011 season marks the teams surprise 8-1-5 start and first place standing (3-0-2) in Ivy League play with two regular season games remaining.
What has been the most remarkable is that the Big Red are currently riding a 13-game lose-less streak (8-0-5), second only to New Mexico (15) for the longest streak in the nation.
Last season, the Big Red did not win a single Ivy League game (0-5-2), and before head coach Jaro Zawislan arrived in 2009, the Big Red finished the 2008 season 1-15.
The always modest Zawislan believed he could make a dissertation out of the question as to why the Big Red have improved so drastically over the past three seasons.
"Well, how much time do we have to talk about it?" Zawislan said. "Because I can go on for hours about the transition of (Cornell soccer) the past two-plus years."
"I mean when I came to the program (in 2008), it was my first head coaching position and we started with a philosophy that there's a fresh start to the program. My record at the time as head coach was zero wins, zero losses, zero ties, and that's the (philosophy) I expected out of the players—to come with a kind of fresh attitude and forget about the past seasons and just look forward towards the future."
However, sophomore forward Daniel Haber believed there was a more simpler answer: the team's dedication to the matriculation of the program has guided the Big Red in the right direction.
"I think that (Jaro's) done a very good job of really bringing in guys that are committed," Haber said. "Everyone in the program right now…they're number one priority is soccer. Everyone is willing to do whatever it takes year round to make the program better.
According to Zawislan, anticipating the high level of competition in Ivy League play compelled the players to respond even hungrier in 2011.
"This season, the returning players came back ready to tackle the challenges of the preseason and season," he said. "Newcomers came in and they were ready to contribute right off the bat so it's been a very highly competitive environment in our program and that's just what makes us better week to week, and from game to game."
What started as a little hot streak turned into a surprising 1-0 win in the Ivy League opener against Penn Oct. 1 in Philadelphia, as Haber's goal with less than two minutes remaining in regulation gave the Big Red a win to open conference play for the first time since 2005.
"Penn's a great team and they've been going to the tournament for the last few years and been nationally recognized consistently and we knew that being able to get a win against them would be a big turning point for the program as a whole," said Haber. "I think it really gave us a big sense of confidence where we feel like after that (win) we can take down anyone if we play our game."
And thus far, nobody has been able to take the Big Red down in nearly two months. That is unless their opponents consider ties moral victories.
The Big Red's game versus Brown Oct. 22 drew 983 fans, a Berman Field record, a double overtime thriller that ended in a 1-1 tie.
The Big Red travel to Hanover, N.H. to take on Dartmouth this Saturday, a game that has serious Ivy League title implications considering the Big Green trail the Big Red by two points in the Ivy Standings in a two-way tie with Brown for second place.
Then, the Big Red close out their regular season when they host Columbia on Saturday, Nov. 12, a game that with a win has the possibility of being the Big Red's first ticket to the NCAA Tournament since 1996.
And Haber stressed the importance of the last two regular games of the season, and what it would mean for a program whose last Ivy League crown was in 1995 to not only win the league championship, but also extend their season.
"We're going to do our best to finish out the season strong," he said. "We want to win the Ivy League. We want to get to the NCAA tournament. Those are our goals. But no matter what looking back on the season it will be a success. Big step forward for the program, for now and for the future…"
===================================
Cornell uses offensive firepower to win second game, split doubleheader with Brown
By Tim Weisberg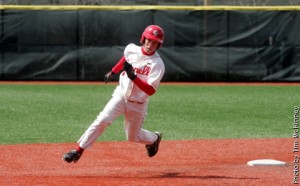 Photo by Patrick Shanahan
Published April 3, 2011: The Cornell baseball team split a doubleheader with Brown Sunday afternoon at Hoy Field, dropping the first game 5-2, but taking the second 13-8.
It was Cornell senior first baseman Mickey Brodsky who played the role of "Mr. Clutch." Down 7-5 in the sixth inning, Brodsky sent a three-run blast over the left field fence to give the Big Red an 8-7 lead in an eight-run sixth inning.
According to Cornell head coach Bill Walkenbach, generating offensive spurts when the team is struggling is an important momentum builder.
"We haven't been scoring many runs at all, all season long and we'll take them when they come in bunches
like that," Walkenbach said. "We hope that in innings like [the sixth] where we score eight [runs] will give a lot of confidence to guys who have been struggling."
The Big Red (3-17, 1-3 Ivy League) scored first when center fielder Brian Billigen crossed home plate on a passed ball to give the Big Red a 1-0 lead. But the Bears (3-15, 1-3) tied the game at two in the third inning on a two-run double from senior first baseman Pete Greskoff.
Greskoff also ignited a four-run outburst in the fifth inning, hitting a three-run home run to give the Bears their biggest lead of the game at 6-2.
But it was Brodsky's home run in the sixth that proved to be the difference maker. According to Brodsky, who went two for four with a home run and five RBI's in the second game, it was relieving to produce offensively since he was a combined 0 for 11 in the doubleheader against Yale Saturday, and in the first game against the Bears Sunday.
"I was pretty frustrated because I didn't have a good weekend," he said. "As a senior, you have to lead by example and it was kind of hard for me [to do that] this weekend."
But to Billigan, it was not surprising to see Brodsky contribute offensively.
"It's Mickey's job," he said. "He's the leader. He knows when we need big plays and he definitely came through."
The win against Brown ended a five-game losing streak by the Big Red, and gave them their first win in Ivy League play.
The Big Red hope to keep their winning streak going when they take host Binghamton Wednesday afternoon for a mid-week game, before traveling to Hanover, N.H. to take on 12-6 Dartmouth.
For Brodsky, the win against Brown will be important in establishing a culture of winning, especially when they move forward and play Dartmouth next weekend.
"This team has to learn how to win first of all," he said. "We're [3-17] and there's not much difference between teams in baseball. It's just one team that expects to win and one team that hopes to win so if we get to that point where we expect to win we're going to be fine."